Improve Employee Convenience and Visitor Experience
Nuvolo Wayfinding helps users navigate to and around any campus, indoor, and out. GPS maps guide you to an address, while interactive floor maps guide you to your office desk, a hospital room, a laboratory, a college classroom – any location within a large campus, or an individual building.
Not sure where you're going? No problem. Search for people, locations, and things, and Wayfinding will find the exact location on an interactive map.
Employees and visitors get directions right from their smartphones or strategically located Wayfinding kiosks. They input a search item and presto, straightforward view for the location.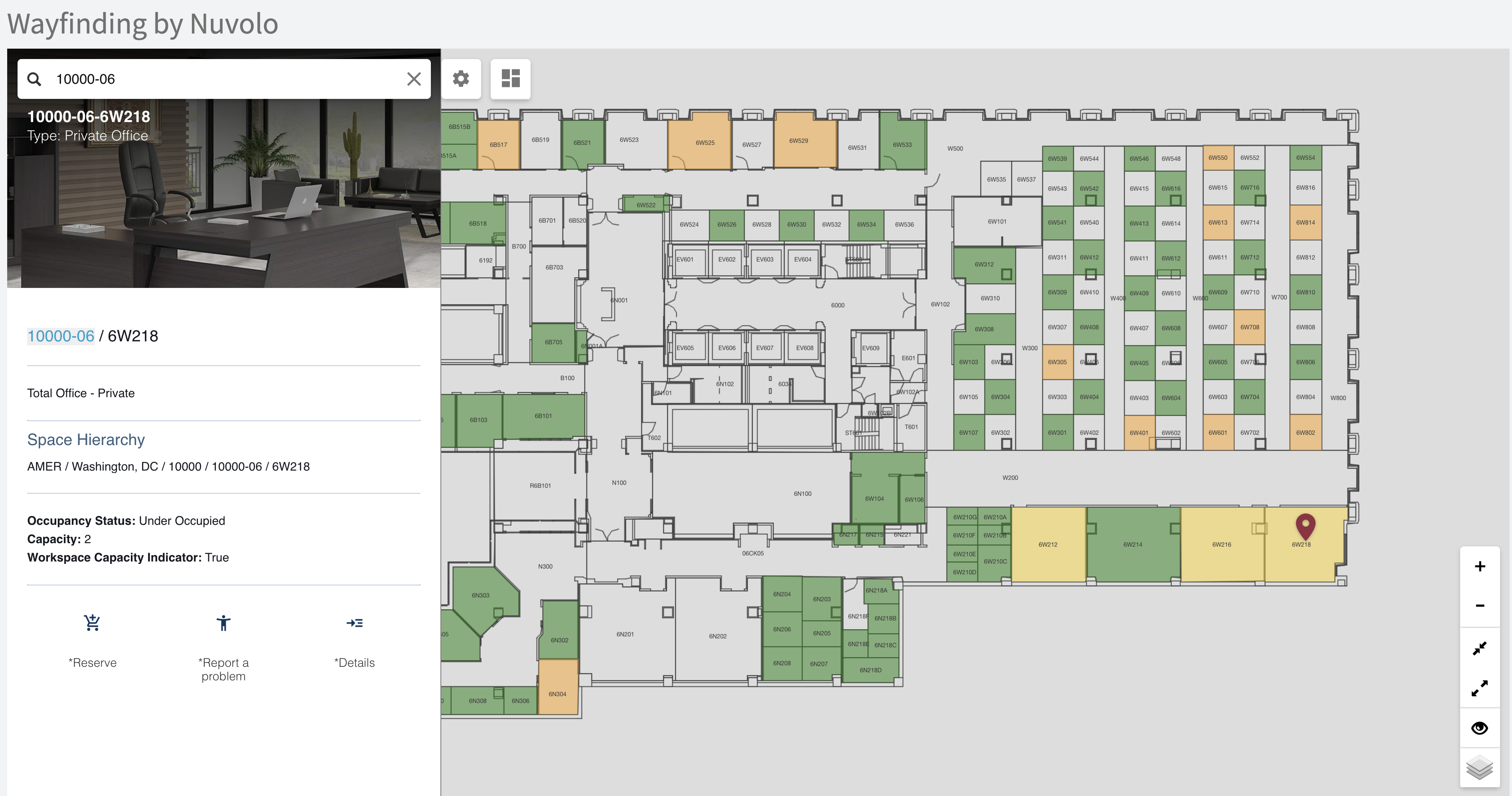 Navigating the Return to the Workplace
Nuvolo is helping to redesign and manage workspaces for social distancing, sanitation, and safety. Wayfinding and Space Reservation software combined on one platform offers a dynamic and easy way for employees to engage with their reconfigured workplaces.
Give returning employees instant access to crucial information they need to feel comfortable and safe. With our space reservation solution, employees search the Wayfinding interactive floor maps to book available desks or other office spaces; Wayfinding services help by:
Showing employees on building maps and floor plans,

where their colleagues are sitting
already reserved desks or designated hoteling locations
hand sanitizer and PPE Kiosks
what areas have been designated off-limits

Marking the new one-directional walking paths and managing the flow of foot traffic
Alerting and guiding cleaning crews to the reserved spaces that need to be sanitized
Pushing mobile alerts directly to the user's smartphone when a reserved workspace is cleaned and ready for check-in
Why Nuvolo for Wayfinding?
Wayfinding, as part of Nuvolo's Connected Workplace, is unique and can help manage your buildings. Here's how:
Facilities maintenance teams can locate equipment and perform work orders with ease
Employees can submit a facility work order request directly from Wayfinding maps
All facilities space and real estate teams share the same platform, any changes they make to the building or campus layout are instantly updated for employees to use
We simplify floor plan updates through bi-directional syncing with AutoCAD