What is Space Management?
Space management is defined as the management of an organization's physical space inventory.   And it is that.  But we know space management is a lot more. It's move management, space scheduling, real estate utilization, and, of course, space planning.
Our spaces will have to shift radically. Before the global pandemic, personal office space was shrinking, open offices were popular, and working from home was increasing (but not like this!). Now, we will be working from home a lot more; when we do go to the office, we'll have more personal space, and open office spaces will be designed for social distancing.  The new workplace will look very different.
If you don't already have it or you're using an old system or spreadsheets, you're going to need to upgrade or invest in modern space management software.
The Top 4 Departments that Need Space Management Software
Real Estate needs a new plan
Real Estate is one of the most expensive items on a corporate balance sheet. If you're on the Real Estate team, you're probably going through a critical review of your properties. If more people are going to work from home more often, do you need all the office space you currently have? Can you save money?
With the right space management software, you can answer these questions. You can plan, monitor, and measure your spaces. As we all return to the workplace, a space management platform, that's connected with the rest of the organization, will let you know who is coming into what offices, when, how often and for how long. This data will be valuable in managing your portfolio now and for years to come.
Workplace Managers are going to be busy measuring, reserving, and assigning space
Creating the new workplace means reconfiguring desks to be 6-feet apart, reorganizing conference rooms for fewer people, creating more hoteling workspaces, and changing around the office layout. You'll have to map out hand sanitizing and temperature check stations. You'll need to determine what common areas will be off-limits, like kitchens and gyms.
Workplace Managers will need online interactive floor plans that come with a modern, connected space management platform.  And, that platform will need to have a robust reservation system for reserving rooms, desks, and other office areas.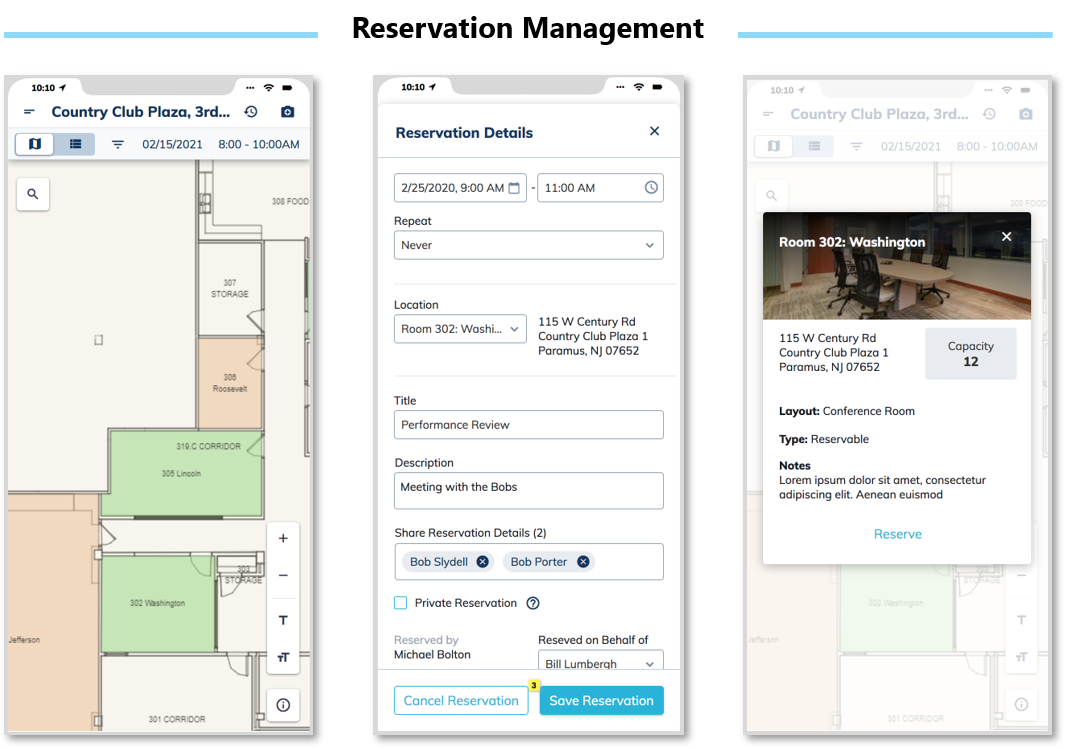 Facilities will set up and maintain the spaces.
Once Workplace Management reconfigures the corporate spaces, Facilities will be working hard to ensure that the changes are implemented, and workplaces are safe. Facilities teams are going to have a lot more work orders, with a lot of moving parts.
Once we return, your maintenance crews will be on double duty, cleaning, and sanitizing workstations and spaces throughout the day. And, we understand that recommended practices are going to keep changing for a while.
Space Management software gives your technicians and maintenance crews access to interactive floor maps on their mobile phones to manage tasks quickly. They'll have all the people, assets, work orders, and location information they need. The platform will auto-generate and auto-assign work orders; those work orders will be easily navigated to and managed on floor maps.
(We know the importance of Interactive Floor Plans.)
What Executives Need to Know
Executives will need to be the face of safety as we return to our workplaces.  If you're in upper management, you're probably already highly involved in the new workplace planning.  However, things will be changing daily or weekly, so you'll want to have information available should questions arise.
A system like Nuvolo, with Space Management software as part of a robust Facilities Management platform, shared with the rest of the organization, has the reporting you'll need for all stages of your reopening plan.
Design executive dashboards with floor maps that show where all the new sanitization stations are located and what areas are off-limits. Create reports that tell you what areas have been cleaned or what the nighttime disinfecting routine is. Space management is tied to building security systems, so you can see what percentage of employees are returning to the office.  Room reservations as part of the platform will tell you where employees are sitting, and what rooms they're reserving.
Space management software is a 'must-have' in planning your organization's return to the workplace. Nuvolo's Connected Workplace Space management platform helps you create and maintain well-designed, safe workplaces employees will be comfortable coming back to.