We can all agree that how we work and our workplaces are going to change because of COVID-19.
How work will change is a hot topic right now.  Will the current work from home situation keep us from going back to offices?  Or, will quarantining and social distancing give us a greater appreciation for the workplace?
‍
There are pre-COVID statistics that can guide us to the 'new normal'.
‍
Working from home was gaining momentum before COVID.  Before the virus, 5 million US employees were working from home at least half the time. In 2019, 69% of companies offered telecommuting options (SHRM).
‍
It's safe to say, this unexpected work from home experiment is paving the way for more flexibility, which is Fantastic!  Remote work has been shown to increase productivity and lessen sick days.  Employers who offer work from home options had employee turnover rates drop by over 50%.  And, 86% of employees say they're most productive when they work alone (Fundera.com).
On the flip side, the office is a place to socialize, develop relationships, connect with others on both a professional and personal level.  Casual water cooler small talk, socializing after work, brings a different level of trust and collaboration you just can't get remotely.  Studies have shown that working together in the same room solves problems more quickly and fosters innovation.
Apple's Tim Cook said it best, "For all of the beauty of technology and all the things we've helped facilitate over the years, nothing yet replaces human interaction… And I don't think it will ever happen."
So, what's the answer?  Do we go back to the office or stay home?
‍
A 2017 Gallup's State of the American Workplace study has the answer.  They found that working remotely for two to three days a week is the most productive. That gives us two to three days of collaboration and socializing, with days of quiet and focus.
It's safe to assume that we will go back to the office on staggered schedules and that desks will need to be farther apart.  Half of us in office two days a week, the other half a different two days, and everyone gets Friday from home.
(I'm all for Friday from home, better yet, how about that 4-day work week movement!)
Here's what else the 'new workplace' will bring.
Greater Flexibility and Autonomy
We're available all the time, thanks to technology.  We're used to it, and for the most part, okay with it.  We do, however, want to swap the 'always on' for greater workplace flexibility.  The sudden transition of having to work from home will likely make most of us more comfortable with creating a better work-life balance.
We're all laughing at the kids in the background during our video calls, the dogs barking, and those more embarrassing video moments being shared all over social media. Now, more than ever, we've embraced family distractions and accepted everyone has lives outside of the workplace.
Everyone will view their roles differently, with greater trust and understanding for our colleagues.
Family has never been more important, and this tough time will not easily be forgotten.  We'll all have, and take, more freedom and flexibility to attain a healthy work-life balance.  No one will think twice if you're late because you went for an early morning run, or you leave early to pick up the kids.
We may find that our office time is more focused, collaborative, and specific.  Less about just sitting at our desk from 9-5, and more about connections and collaboration.
Privacy and Space, Glorious Space
‍Did you know that the square footage of an office per person has been decreasing over the decades?  Decreasing a lot!
‍
According to CoreNet Global, the average amount of space per employee dropped from 225 square feet (sf) in 2010 to 176 sf in 2012.   And now the recommendation for US offices is 150 sf to 175 sf per person. For open offices, recommendations can go as low as 125 sf per person.
‍
We all know this is going to have to change.  We may see a resurgence in the cubicle.  Stay with me here, I know that sounds old and stogy, but with a modern twist, this could work.  This picture of a cubicle from the 90's at first isn't appealing but take another look.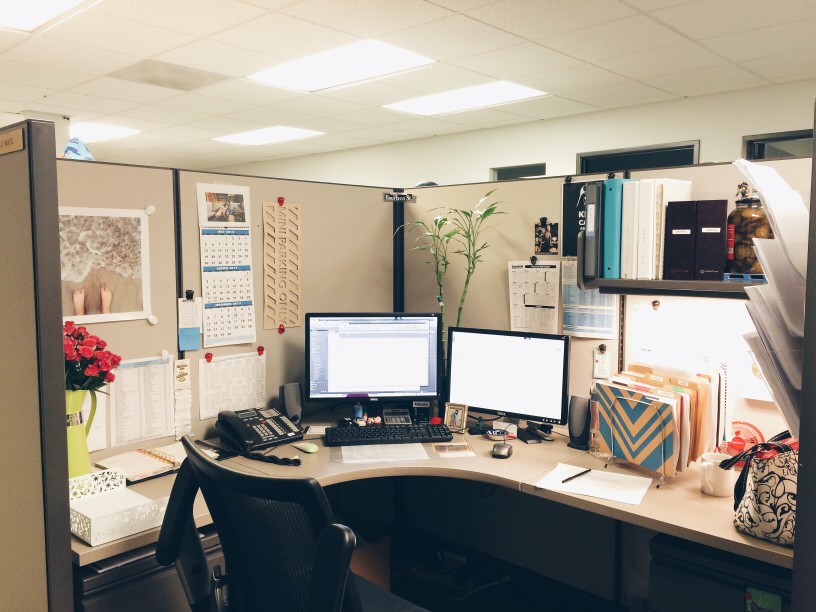 What do you see? Do you see privacy; do you see space? You won't be on top of your co-workers. You may not even hear the loud eaters, and no more looking for that one open "phone booth" to have a private conversation.
We will need to social distance and will probably be on staggered schedules at least for a few years, so why not?
Today's office architects can make these spaces amazing. There's a real opportunity here.
And, the cool open spaces aren't going away, they'll still be there. Companies created those workspaces to support collaboration and ideas. We still need them.
This is the best of all decades, rolled into post-COVID 21st-century office design.
I hope when we all go back to normal, we will have the balance of a digital workplace combined with greater work flexibility. And, a culture of professional and pertinent collaboration, with staggered flexible work schedules and more private workplaces (back to cubicles!).