As facilities managers plan for the re-opening of their offices, there are new challenges they face to protect employees and maintain operations for buildings and stores. The return to work will be a return to a new normal in the workplace. This blog will provide some shared best practices, links to useful information, and practical advice for facilities managers as they finalize their plans to open their locations. This first phase of new tasks and activities are necessary to ensure a safe work environment for employees and contractors. Eventually these will be replaced by iterative improvements, and updates to policies and procedures, that will put the necessary steps in place for an ongoing maintenance routine supporting the new normal.
Employee and Customer Health and Safety
COVID-19 has workplace safety at the forefront of employers' minds. To support that focus, facilities managers are tasked to lead the initiatives to promote hygiene and health practices within the workplace as employees return. Having a carefully coordinated and well-thought-out approach should help mitigate risks for organizations while reducing many customer and employee concerns.
The starting point is around communication. Remind employees and customers, to take basic preventive measures and safety precautions that may help to reduce the risk of contracting the virus or spreading it in the workplace, including:
Frequently washing their hands thoroughly with soap and water for at least 20 seconds or an alcohol-based hand sanitizer that contains at least 60 percent alcohol.
Avoiding touching their eyes, nose and mouth.
Covering sneezes or coughs with tissues, if possible, or else with a sleeve or shoulder.
Avoiding close contact with people who are sick.
Staying home when sick; and
Cleaning and disinfecting frequently touched surfaces and objects.
To facilitate these practices, facilities managers should ensure that they maintain adequate supplies including tissues, soap, alcohol-based hand sanitizer that contains at least 60 percent alcohol, and hand wipes. The CDC has also recommended that employers provide no-touch disposal receptacles for use by employees.  Place no-touch sanitizer dispensers in multiple locations including every entrance to the building and in conference rooms to encourage good hand hygiene.  You should also provide employees and customers with disposable wipes so that they can wipe down commonly used surfaces, such as door handles and shopping carts before each use. Additionally, facilities managers might want to put up posters directing employees to wash hands frequently, cough or sneeze into tissues, and stay home if they have any symptoms.
Besides the focus on personal hygiene in the workplace, there are new studies that have been released recently which describe additional changes that can be made by facilities managers to reduce the virus transmission. One is related to workspace distancing. Increasing the space between desk locations will help promote social distancing in the office. This should be performed prior to the re-opening of the offices so that employees return to a new floor plan already configured. Additionally, the amount of space in meeting rooms should be decreased to ensure social distancing. By reducing the capacity of conference rooms, it will help drive this new standard effectively.
Preparing the Workplace: Cleaning and Sanitation Best Practices
There has been a myriad of different approaches to cleaning and sanitizing office space, store counters, and shared surfaces since the outbreak of the coronavirus. What type of products can be used for mitigation or sterilization to prevent potential contamination? Very few products are known to be a "guaranteed kill" but they do exist. "Botanical Disinfectant Solution" is one effective product, and several brand-name products, such as Lysol and Clorox, are also recommended. (See a complete list of approved products here.)
As you plan for the re-opening of your offices or store locations, cleaning and sanitation will be the most important activities to help employees and customers stay safe and healthy. Normal sanitation procedures and cleaning frequencies may not be sufficient—especially in areas such as restrooms, meeting rooms and on high touch surfaces such as door handles, elevator buttons, countertops, faucets, or touch keypads. Your sanitation plan should also include processes for decontaminating workspaces and common areas if confirmed cases present among employees or visitors to your buildings. To help ensure these areas are cleaned regularly, the facilities manager should institute guidelines and assign scheduled tasks that can be tracked by supervisors as part of the maintenance rounds for each office location.
Example: Mobile Maintenance Rounds for Sanitation Stations (dashboard list, cleaning rounds, location cleaning checklist, completion validation)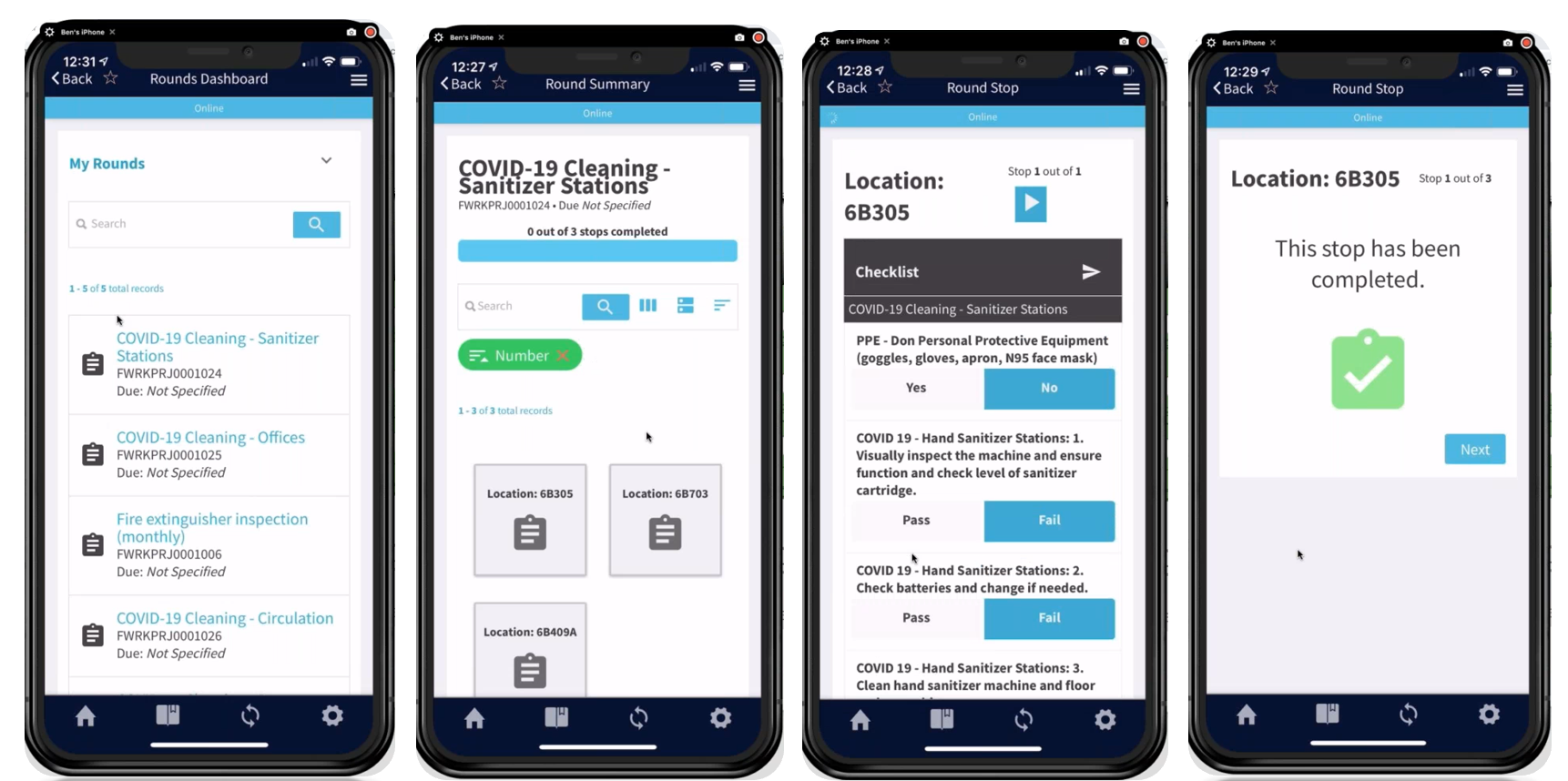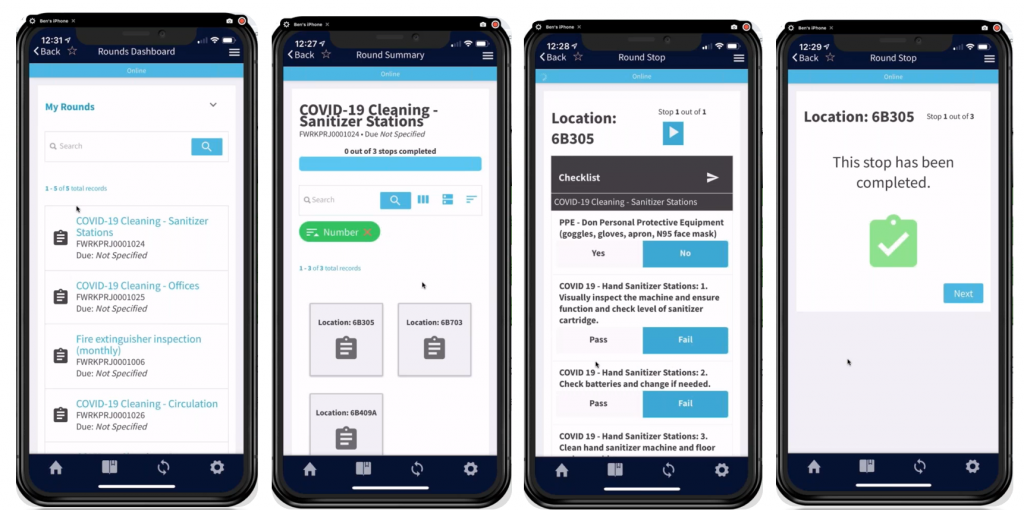 For a virus pandemic sanitization is, of course, critical. The following steps will improve protection:
Intensify housekeeping measures — conduct multiple rounds of cleaning daily, especially of heavy-contact surfaces (e.g., door handles, light switches, elevator buttons, handrails, faucet handles). If possible, have someone continually cycle through the facility disinfecting high-touch surfaces during hours of operation. (This includes workstations, offices and personal and shared technology.)
Place hand sanitizer and disinfectant wipes (with disposal units) throughout the facility, as well as signs to remind staff and visitors to use them frequently.
Place signs in bathrooms reminding staff to wash hands often, using proper techniques.
Post signs through the facility reminding staff to carry tissues, sneeze and cough into the tissues, then dispose of them into a waste receptacle.
Provide cleaning supplies and require staff to disinfect work areas at the beginning and end of each shift.
Review the scheduled replacement of make-up air intake filters and HVAC unit air filters. Consider replacing filters more frequently and/or using filters with higher minimum efficiency reporting value rating.
Consider closing all fitness centers and cafeterias in facilities, keeping open only kiosks/micro-markets with prepackaged food.
Summary and Conclusion
A connected workplace software solution like Nuvolo will assist your facilities management activities, schedule and track cleaning tasks, and coordinate your vendors and staff resources efficiently. The following items showcase how an integrated facilities management system can assist your efforts during the coronavirus:
Manage Cleaning and Sanitation Activities: A specialized software solution can help you manage repetitive cleaning tasks by extending access to your janitorial and sanitizing operations. Preschedule additional work orders for wiping down high touch surfaces, including flat surfaces, door handles, elevator buttons, handrails, and touch screen panels.
Coordinate Inventory Audits and Replenishment: The coronavirus pandemic and the resulting supply chain disruptions have underscored the need to intelligently manage inventory. Modern workplace management solutions have a built-in management module for warehouse inventory tracking and audits. Threshold numbers can also be configured for each inventory item so that automated replacement orders are created when those thresholds are reached.
Provide Mobile Access to Work Orders: The most popular facilities management solutions provide a mobile application that field service technicians and cleaning crews can run on their phones or tablets so they can quickly respond to urgent maintenance requests, or managed regularly scheduled rounds, while working remotely at different office locations.
If you are interested in finding out more about our facilities maintenance solution and how it can help with re-opening your offices, and cut your administration time in half, please visit our different overview pages online (Maintenance; Space ), or watch our recent webinar recording.
Additional Resources for Facilities Managers:
For additional information on shared best practices and recommendations for facilities managers during the coronavirus pandemic, please reference the external website links below.
Pandemic Planning Resources for Facilities Management